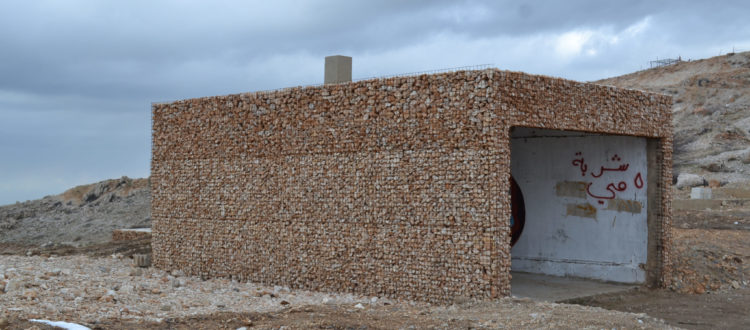 Increased water availability in key sites of SBR through pilot investments on water harvesting and storage
The water assessment of the Shouf Biosphere Reserve conducted by the MORES Company, recommended the implementation of several measures to enhance water availability, also in view of the decreased rainfall forecasted by climate change predictions for the region. These include various rainwater harvesting technologies. Priority interventions were selected by the team and implemented during 2017 in the framework of the MM project.
The rehabilitation of an existing concrete pond and a water network in Maasser El Shouf has the purpose of collecting and storing water from snow and rain, in addition to providing a stable source of water for wildlife. The first intervention makes use of an existing water storage cistern established under demolished concrete structures to store rain water and snow melts, and feed a to-be-rehabilitated concrete water pond (16m x 7m x 1.5m), approximately three hundred meters hydraulically down gradient to south. A small pond will be created nearby the concrete pond to provide drinking water to wildlife in the area.
The concrete pond was cleaned and reconstructed, then covered with a geomembrane liner for additional insulation. The terrain around the pond was shaped with gravel to enable animals that accidentally fall into the pond to get out of it.
---