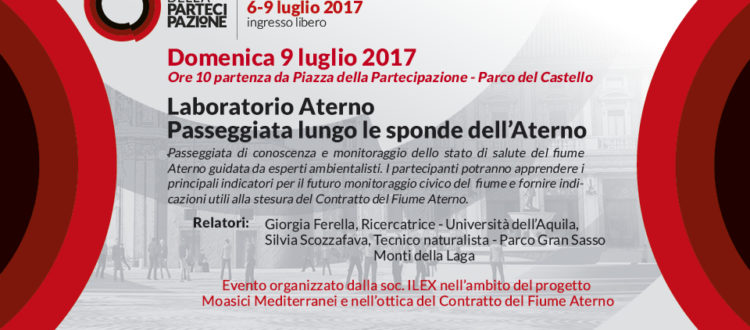 MM Project at Second International Festival of Participation, L'Aquila – Italy
On July 9th 2017, in occasion of the Second International Festival of Participation occurred in L'Aquila from 6th to 9th of July, Ilex Team organized the first walk along the Aterno River in the area of L'Aquila City guided by the L'Aquila University Researcher Giorgia Ferella and by the naturalist technician of Grans Sasso Natural Park Silvia Scozzafava.
During the walk, we visited one of the few footpath along the city banks of the river, registering the insufficient maintenance, the pollution, the amount of abandoned garbage and the general carelessness which marks out that area. The event has been thought as moment to increase the citizens and pubic administrations attention about the river and to give people some technical skills useful for the civic monitoring of the river quality, especially in view of the next Aterno River Contract.